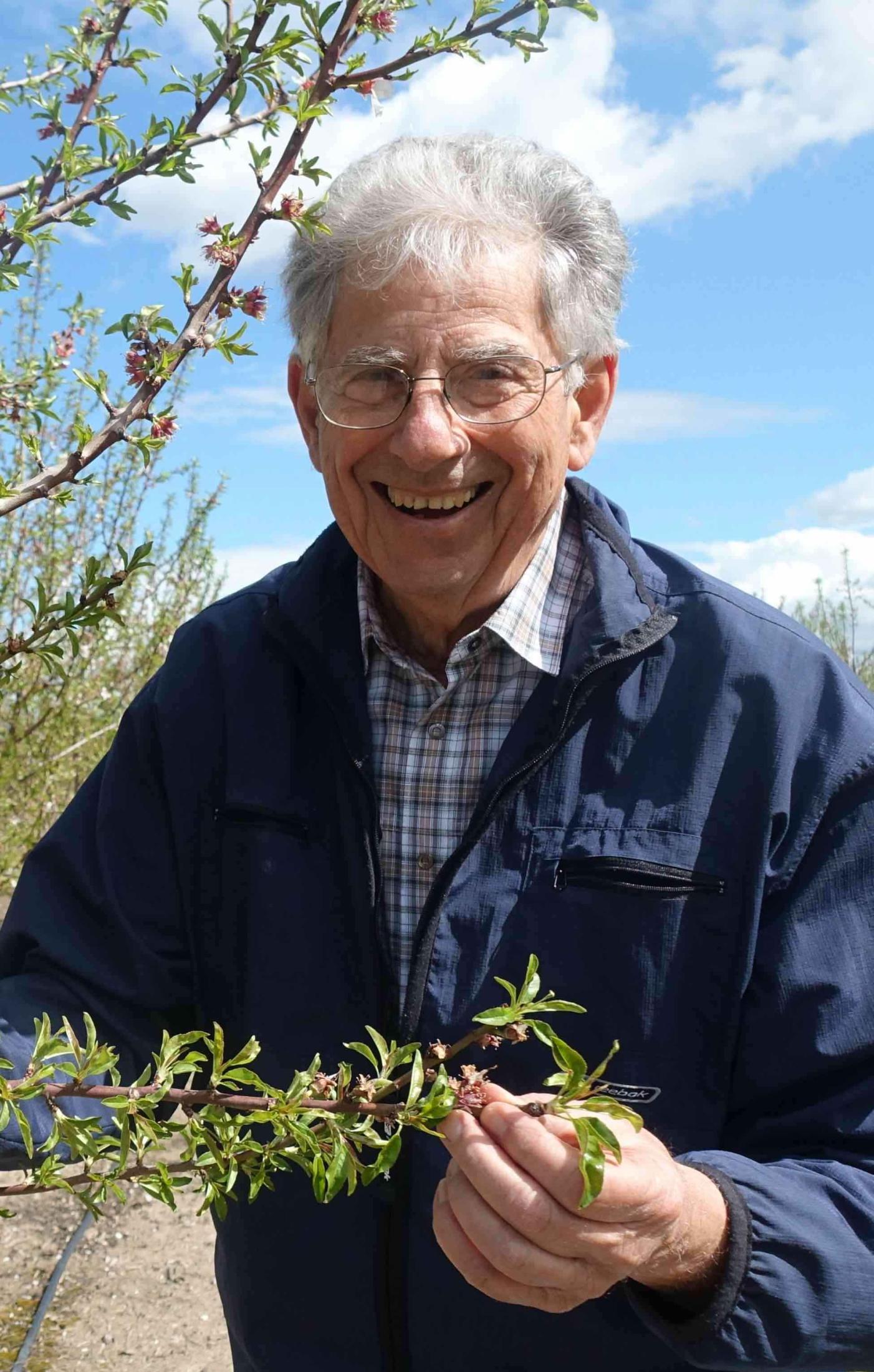 Louie Tallerico is an engineer by training and is always looking for ways to optimize the soil on his 200-acre farm in Manteca. He recycled an almond orchard for the first time in 2016, fine-tuning the fertilization regime in the new orchard with a combination of expert advice and daily binocular observations from his kitchen window. The growth of his two-year-old Independence trees is right on track, with no problems so far (though he has noticed an unusually high number of mushrooms from wood-decaying fungi).
---
Grower's name: Louie Tallerico
Location: Tallerico Family Partnership, Manteca, CA (San Joaquin County)
Total almond acreage: 115 acres (plus another 85 acres of wine grapes)
Acres and years recycled: Recycled 40 acres in Fall 2016; replanted March 2017
Motivation
Louie Tallerico says that when removing old almond trees in San Joaquin County, "What most people do, and what we did, is just burn them." He had also tried selling old trees for firewood (too much hassle) or sending the chips to a biomass energy plant. But when it came time to remove a 40-acre orchard next to his house in 2016, he wanted to try something new. Tallerico had watched a demonstration on whole-orchard recycling and had seen it done on some nearby fields. He discussed it with his orchard removal contractor, Randy Fondse at G&F, who was happy to accommodate.
"The number one motivation in my eyes is the soil," says Tallerico. "I was interested in some way of trying to improve the soil quality." His Veritas fine sandy loam is already good soil, but he hoped that putting more organic material back in the soil would help reduce nutrient leaching and also help create more uniform productivity over his orchard block.
Logistics of orchard removal and replanting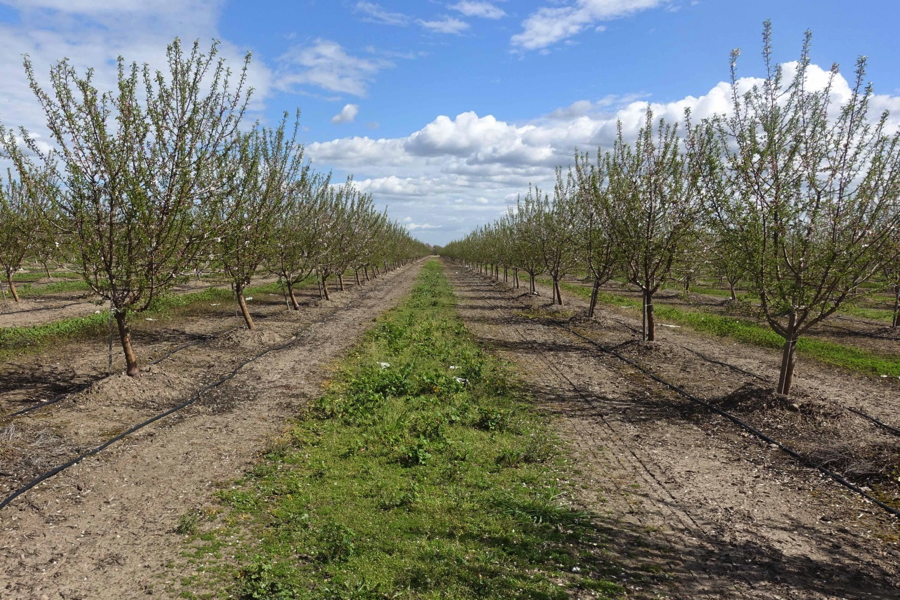 Over his nearly five decades of farming, Tallerico has gotten familiar with the process of orchard removal, so he knew that it had to be planned well in advance: he scheduled the contractor a year ahead of time. "Even so, it was a challenge," he says. "We rushed through everything."
The 24-year-old orchard was removed right after harvest in Fall 2016, and the trees were ground by a horizontal grinder (resulting in chips between 1" and 3" long). Tallerico estimates that there were about 50 tons of chips per acre. After the spreading was complete, Tallerico did several rounds of deep-ripping, discing, and rototilling. Due to equipment availability issues and weather delays, it was early March before the bareroot trees (Independence on Nemaguard rootstock) went in the ground.
Nitrogen application following WOR
Trying to figure out nitrogen application rates after orchard recycling has been the trickiest part of the process so far. "It'd be nice to have a good mechanism to know how much to put on and when," Tallerico says. "From my perspective, the worst thing you could do is burn the young trees with too much nitrogen and lose them. But on the other end of the spectrum, the growth could be too slow."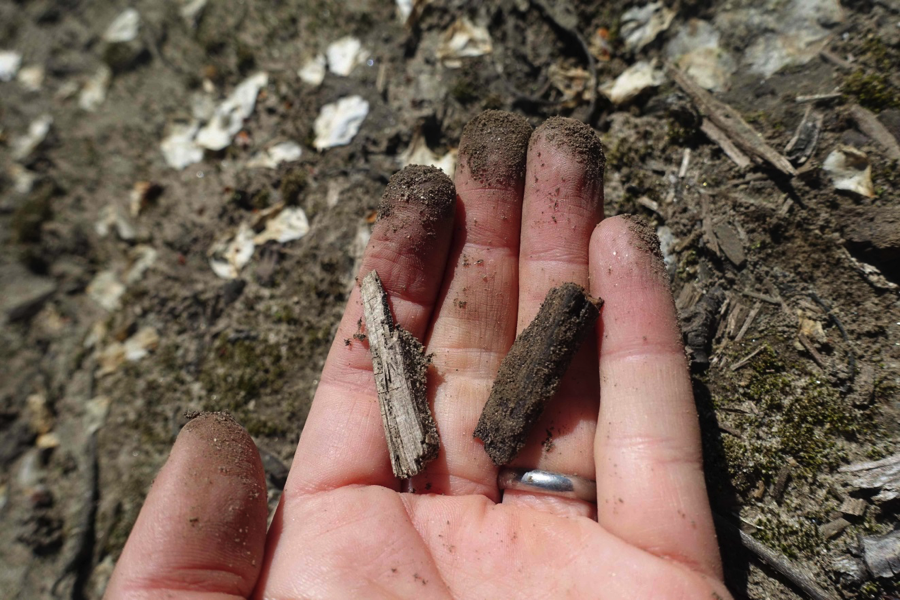 Tallerico used leaf analysis (foliar N content) to help keep track of the trees' nutrient status, but he also had a more immediate way to get feedback: on a daily basis, he checked on the leaf color in the new orchard with a pair of binoculars that he kept at the kitchen window. "When you give the trees a shot of nitrogen, the color comes up, and they look good for a few days – then they start to fade, and you have to give them another shot," he says.
Tallerico applied most of the nutrients as fertigation (a combination of UN-32, 0-0-15, Axilo Zn, and HydraHume). He supplemented this by applying some 15-15-15 by hand. Ultimately, Tallerico added almost 100 units (pounds) of nitrogen per acre in 2017 (first leaf). He increased this slightly in 2018 (second leaf), to avoid the slow growth he observed the previous year.  However, he applied the nitrogen very gradually – at time intervals of 7-10 days – to avoid harming the trees or causing excessive nutrient leaching.
How the replant orchard is doing so far
"The growth rate of the recycled block was a little slower at first," Tallerico says. "We lost some time the first month. Maybe I should have put more nitrogen then." Because Tallerico has only just started using the Independence variety (he has one other Independence block, planted the previous year in Spring 2016), he doesn't want to rush to judgment on how fast the young trees should be growing. He feels that they have caught up well after their slightly delayed start, and they appear to be in good shape for their first harvest next year. The chips are mostly gone from the orchard floor, though many chips are still visible on the berms around the tree trunks.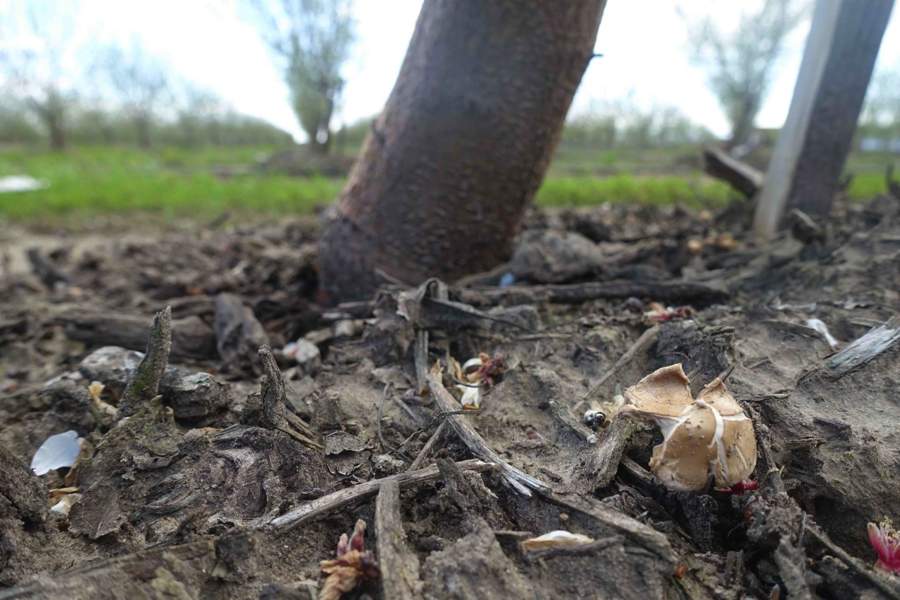 Tallerico hasn't noticed any pest or disease problems in the new orchard. However, he has noticed something intriguing: a large number of mushrooms popping up around his trees, presumably due to an increased population of wood-decay fungi. Fortunately, the large majority of wood-decay fungi are benign and pose no threat to orchard health.
What went well and what to change next time
Tallerico would have liked to take additional time to spread the chips more evenly . Some of the chips that got left on or near the surface floated away when he flood-irrigated late in the season (he has both flood and drip irrigation installed in this orchard). Those floating chips accumulated in some locations and now need to be removed.
"If I had to do it again, would I do the same thing? Yes," Tallerico says, "but I wouldn't plant the same year. I'd take one more year so that I could have a whole year to work on the chips and get them buried really well." He was relatively lucky with equipment, labor, and weather during his quick 2016-2017 orchard turnover, but he isn't counting on being that lucky next time.
Although Tallerico has always used bare root trees when replanting, he acknowledges that potted trees can alleviate some of the time pressure, and they might be worth considering in the future. To complete an orchard replacement from start to finish, "You are depending on so many people," he says.
Advice to fellow growers considering WOR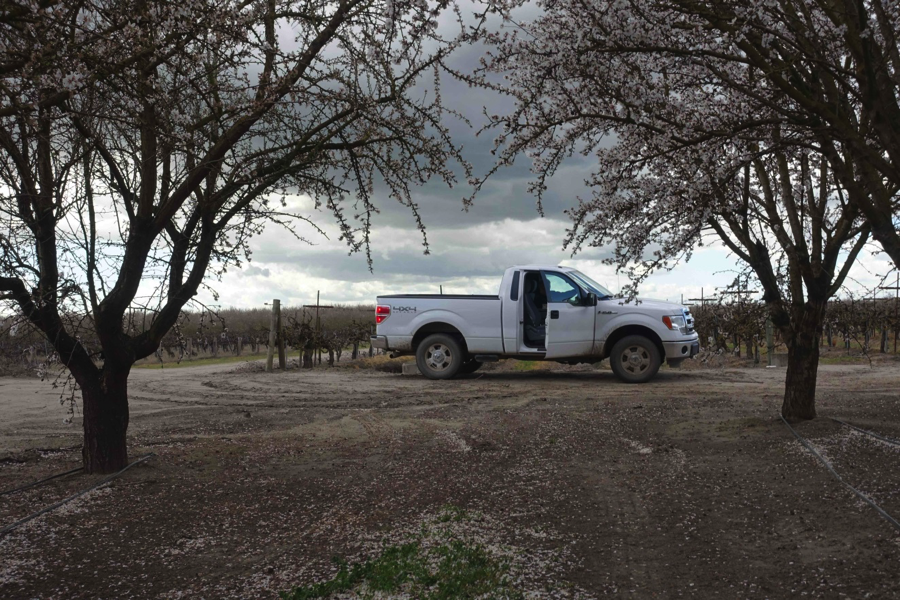 Nitrogen management is the biggest obstacle for someone trying whole-orchard recycling for the first time, Tallerico says. "The chips tie up a lot of the nitrogen, so it was fairly time-consuming working out that nitrogen issue and trying to decide how much to apply." (Researchers are developing quantitative advice for fertilization rates after orchard recycling, but no published guidelines were available when Tallerico recycled the orchard in 2016.)
Tallerico concurs that not everyone is going to be a convert to whole-orchard recycling at this point, when few data are available on long-term yield benefits and cost-benefit analyses. His early adoption means that he is "rolling the dice" to some extent, he thinks. But he is optimistic. Every land management decision has a cost, he says, and he believes that it is almost always a good decision to err on the side of investing in soil health. "If I had to do it all over again," he says, reflecting on his farming career, "I'd spend more time and energy and money on the soil."